Play Now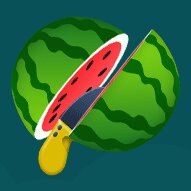 Become the master of fruits in Fruit Master! You can become the master of these juicy and jelly-looking fruits in this skill game. To get going through the levels, you just need to slice all the fruits you see and never miss a shot! Are you ready to challenge your chopping skills through many levels?
In this vivid game, you will have the chance to test out your skills through 100 levels! At each level, you will see many fruits of a different kind. They will be presented to you in different compositions. Sometimes it will be a revolving cycle that the fruits are put in, and sometimes they will be in a stack of a square that is revolving around itself. Either way, you should have good aiming skills to manage to chop these fruits in half. You are expected to throw your knife at these fruits as accurately as you can. If you miss even one shot, you will fail the level. You can always restart the levels, though. With each successful shot, you will earn coins. Don't forget to unlock new knives with those coins, too. Now, relax and let the game take you on a soothing journey for 100 levels!
If you enjoyed chopping fruits off in this fun addictive game, you should check out Slice A Lot to play a very similar game to have even more fun!
Developer
2play developed Fruit Master.
Release Date
December 08, 2021
Features
• 2D colorful graphics
• Intuitive skills
• Relaxing game experience
• Multiple levels to complete
• Addictive gameplay
Controls
You can click on the left click to throw the knife.