Play Now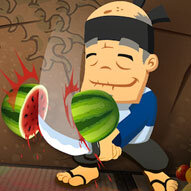 Fruit Ninja is here to test your skill as a ninja, so get ready to unsheathe your swords and make your sensei proud. Apples, oranges, watermelons are scattered all around the dojo, and these juicy treats are perfect practice targets! Can you chop them all?
All ninjas hate fruit, but we heard the sensei loves prunes! No matter what your stance on nature's candy, you better prove yourself! So grab your swords and slice them all! Your objective in this game is to reach a high score by slicing as many fruits as you can. Being a ninja is all about having sharp reflexes and endurance. When you start the game, fruits will be thrown from the bottom of the screen. Swipe your mouse or your finger through the fruits to cut them. But be careful! Sometimes you'll see bombs. Hitting these will end the game. You'll also lose the game if you miss 3 fruits. You can check how many lives you got by looking to the top left corner of the screen. Good luck, apprentice!
Do you trust your skills? Then why not visit our collection of skill games to test your mettle? Click here to play now!
Developer
Halfbrick Studios developed Fruit Ninja.
Release Date
October 25, 2021
Features
Different fruits to chop
Intuitive controls
Fun and addictive gameplay
Colorful 2D graphics
Controls
Use your mouse to play on the desktop, and your finger to play on mobile devices.