Play Now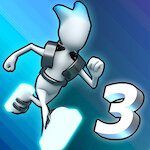 In G-Switch 3, get ready to play around with gravity with your special boots. Running around the city will never be the same after you wear these boots, so get ready for a thrilling jog. With levels filled with obstacles and challenging tracks, do you have what it takes to master this game?
We're sure you can see your house from up here, but you better keep your eyes on the road and watch where you step! This game features 3 different modes that you can play. The first one is the classic mode, in which your objective is to complete each level by reaching the end. The next one is the endless mode, where you try to travel as far as you can to earn a high score. The last one is the multiplayer mode. You try to beat the other players by being the one to travel the most distance in this mode. To toggle gravity, click on the screen. Your character runs on their own, but you should avoid getting stuck behind obstacles or falling from the gaps. Watch out for traps and other hindrances, and try to travel without dying. Can you become the best player by earning the most points?
If you enjoyed playing this game, why not try the first title G-Switch by clicking here? Have fun playing!
Developer
Serius Games developed this G-Switch 3.
Features
Multiplayer mode
Endless mode
Fast-paced gameplay
Colorful graphics
Intuitive controls
Controls
Use the left mouse button or the space key to change gravity.