Play Now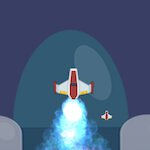 In Galaxy Defence, you're the best space pilot of your organization and been sent to a special quest to protect your people. Space might be infinite, but some asteroids found their way close to your planet. Jump into your spacecraft and destroy as many of these dangerous space rocks as you can!
The vacuum of the space is unforgiving, but you're the best person for this job! Your objective in this game is to destroy as many space rocks as you can without dying. You can play the game with your mouse. Click on the start button on the main menu to begin your journey. Asteroids will enter the screen from the top. To move, click on the screen and drag your cursor left and right. By doing so, you'll also fire. The number you'll on rocks represent their health, as you have to hit them that many times to destroy them. Bigger rocks will form smaller ones upon destruction, so be careful. As you clear rocks, you'll earn coins that you can use to upgrade your spacecraft or unlock new skins. You start the game with 3 lives. Touching any of the rocks will take away a life point from you, so watch out!
Blast enemies, complete challenging missions, and save innocents in our games listed under our collection page of free action games. Have fun!
Features
Colorful 2D graphics
Addictive and entertaining gameplay
15 different achievements to earn
8 different spaceships to unlock and use
Intuitive controls
Controls
You can use your mouse to play this game.