Geometry Neon Dash World Two
Play Now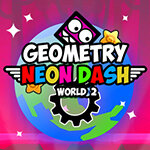 In Geometry Neon Dash World 2, get ready for an endless challenge! Featuring lots of different obstacles, it won't be easy to travel in this world. Grab your mouse, keep your eyes on the road, and try your best to collect each star! How far do you think you can travel?
We don't know who placed all these traps and obstacles on the way, but we know who'll have to avoid them! The objective of this game is to travel as far as you can to earn a high score. Your objective is not simple, but the controls of this game are. All you need to play is your mouse. Start the game by clicking on the play button on the main menu. When you enter the world, your character moves on its own. All you have to do is to click on the screen at the right times to make it jump over obstacles and collect stars. These stars can be used to unlock different character skins from the in-game shop. There are 20 different characters, and each needs 50 stars to be unlocked. Be careful when you're playing. Hitting objects or traps kill you, and you'll have to start from the beginning of the world. Have fun playing!
If you're up for other challenges, then you should check our popular titles in our collection of free and online skills games. Enjoy!
Developer
Kiz10 developed Geometry Neon Dash World 2.
Release Date
November 10, 2017
Features
20 different character skills to unlock from the in-game shop
Colorful 2D graphics
Intuitive controls
Challenging level design
Entertaining gameplay
Controls
You can use your mouse to play this game.