Play Now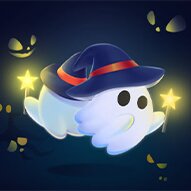 Spooky season is around the corner, and it is time to put on your ghost costume to defeat other ghosts with Ghost Fight IO! Pick up the shiny little blobs to build up your ghost power, hide from stronger ghosts as they can consume your power to leave you disqualified, and steal power from weaker ghosts to rise on the scoreboard!
Let's take our places in the cemetery for a race between the undead! People here rise from the dead, collect light spheres, and consume their essences to become the most powerful ghost in the graveyard. It is not as easy as it sounds, though. Like the bigger fish is to the small fish, the ghosts that are more powerful than you can devour your powers to leave you off the game as they don't like competition. But you would do the same, which is why you will hunt the newer ghosts and feed on them. Get inside the aura of a ghost to start a battle of power scores with them. The ghost with the higher score wins, stealing the power of their opponent. This risky method is the most effective way of climbing up on the scoreboard. What are you willing to do to write your name there?
If you like this spooky graveyard challenge, you can check out our other IO Games to find more games like this!
Developer
Origaming Media developed Ghost Fight IO.
Release Date
July 25, 2022
Features
Cute character designs
Online servers
Easy controls
Cool Halloween theme
Available on mobile devices
Controls
You can use your mouse, arrow keys, or "W, A, S, D" to play.