Play Now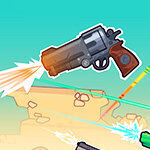 In Gunspin, it's time to play with guns, but that's totally safe! Hitting targets might be the main objective of games featuring weapons, but get ready for something different. Wear your shooting glasses and keep your finger on the trigger.
Grab your ammo and get ready for action. The objective of this game is to unlock all the guns available. You can do this by traveling as far as you can. You can play the game with your mouse, so click on the play button on the main menu to start the game. You control a gun in this game. When you start, click on the screen to fire and begin your journey. Try your best to click on the screen in the correct time to fire and make your gun travel. You can see your ammo in the top left corner of the screen. At the top, you can track your progress on unlocking the next weapon. When you fill the bar to 100%, you can start using the next gun. Running out of ammo ends the game, but you can try again. You earn coins and can spend these on different upgrades to improve your gun. Try to collect ammo crates you see around, as these speeds you up so you can cover the distance faster. Good luck and aim well!
Want to try new and similar games to this one? Then be sure to check our collection of online action games. Have fun playing!
Developer
Minijuegos.com developed Gunspin.
Release Date
November 6, 2019
Features
Colorful 2D graphics
18 different weapons that you can unlock and use
Intuitive controls
Entertaining and challenging gameplay
4 different power-up that you can buy for your gun
Controls
You can use your mouse to play this game.