Play Now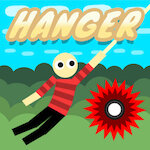 In Hanger, you might not be able to fly, but no one is going to stop you from swinging like you've been bitten by a radioactive spider during your school's field trip! Grab your grabble and hook, and get ready to travel most extraordinarily! How far do you think you can progress in the endless level of this game?
Birds might think that you're weird, but who are they to judge your enthusiasm of reaching the sky and feeling the wind on you face? The objective of this game is simple yet a bit challenging. Get ready to test your hand-eye coordination, because you'll try to travel as far as you can by avoiding obstacles. You can play this game with your mouse, so to begin click on the play button on the main menu. Click and hold your left mouse button to make your character use their grapple and hook to swing. Release to button to let go of the rope and your character will move forward. You should time your clicks carefully, as hitting traps, obstacles, the ceiling or the ground will hurt your character. They can only last so long, as after taking a certain amount of damage your character will die. Collect coins to unlock different characters, and be careful about saw blades. They might hurt! Enjoy!
Test yourself in the challenging levels of our free and online skill games. Have fun browsing our collection!
Developer
Hanger is made by A Small Game.
Release Date
2018
Features
5 characters to play
Addictive gameplay
Physics element
Collectible coins
Controls
Use your mouse to play the game.