Play Now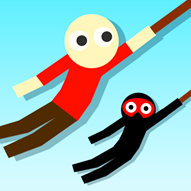 In Hanger 2, your hand-eye coordination is everything to complete all the exciting levels! Do you have what it takes to finish this game with its increasing difficulty, or will the entertaining days of your character come to an end?
In this second version of Hanger, your goal is to swing at the right time and the right angle to reach the finish line without falling! Swinging is a fun activity but, in this game, you need to be very careful not to die or to be broken into pieces! You can use your mouse to play the game. Use your mouse to throw the rope, hold to swing with it, and release at the right time to jump. While swinging there will be some obstacles to damage you, you need to be careful about them. When your character is swinging, he can come across boosters to fly faster. You also should collect coins and keys to gain more coins at the end of each level. After your character succeeds to complete the parkour, he needs to jump as far as he can to get more points! By moving through the green section of the vertical lines, you earn the most points. You get closer to unlocking the next character as you collect coins. Help your stickman character to reach the finishing bar without falling!
If you want to try another skill game similar to Hanger 2, then be sure to check Stickman Swing, too.
Developer
A Small Game developed Hanger 2.
Release Date
May 25, 2020
Features
2D graphics
Characters to unlock
Intuitive gameplay
Multiple levels to pass
Controls
You can use your mouse to play the game.