Play Now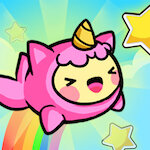 In Happy Hop Online, a full of fun bouncing adventure is waiting for you! To hop happily through the platforms up to the sky, you need to move very quickly. You and you alone can be as quick as to race against time by avoiding various obstacles on the way. Climb until the highest platform you can get and don't forget to collect the power-ups. Let's see if you can break your own record every time!
Climbing has been never this much fun with many beautiful backgrounds changing all the time! The objective of this fun skill game is to make your character jump left and right to get to the highest spot as you can get before the time runs out. You can use the left and right arrows or your mouse to climb. Several obstacles such as phantom clouds, collapsing grounds, evil weapons, and more are waiting for you on your way. Try to collect the power-ups to help you out with this dangerous journey. You can fill your lost time, obtain a shield, and climb with automatic control of the game. Collect the stars to change the skin of your character from the in-game shop to add more fun. See your remaining time at the bottom of the screen and adjust your pace. Good luck and enjoy playing!
To browse more colorful and exciting adventures like this one, be sure to check our collection of free and online skill games by clicking here.
Developer
kiz10 developed this game.
Release Date
October 18, 2018
Features
2D colorful graphics
12 cute skins to unlock from the in-game shop
Various boosters to collect
Entertaining and addictive gameplay
Controls
The left and right arrows to direct your character. You can simply use your mouse as well.