Herobrine vs Monster School
Play Now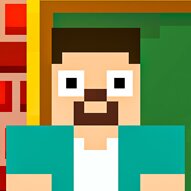 Help your favorite professor of the block lands get rid of the lazy zombies with Herobrine vs Monster School! Herobrine is sick of all the silly answers he gets from the brain-eating monsters he is trying to tame. He has no more seconds left to waste on these monsters. Can you help him destroy them with his lucky bow and arrows?
You know a teacher is a pro when they can shoot a monster in the eye with a single shot from yards away. Herobrine is that teacher. He knows all the tips and secrets when it comes to monsters and weapons. And he is determined to clean this world off the zombie infestation! Lucky for him, he has all he needs: his lucky bow and shooting skills. Now, you can follow him through levels of traps built for these blood-thirsty monsters. Use everything stages give you to take them down! You can use the metal walls to bounce the arrows and reach the corners. You can also skip the zombies and shoot explosives to get rid of crowded groups. Get creative with your killing tactics and end this invasion! Stand by Herobrine's side and get rid of all the monsters together!
If you like this new chapter of stories from Herobrine's world, you can check out Noob Vs 1000 Zombies and help Noob with a similar problem!
Developer
Stickman vs Monster School Team developed Herobrine vs Monster School.
Release Date
August 31, 2022
Features
Herobrine as the main character!
Creative traps and stages
Hilarious levels
Simple controls
Available on mobile devices
Controls
Use your mouse to play this game.