Play Now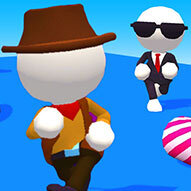 Welcome to Fall Friends Challenge where you'll need to prove you're not only the fastest but also the luckiest one of them all! Because in this fun running game, you'll need both to win. Featuring 2 player game option, this game invites you and your friend to a colorful world full of adventure, new challenges, and fun! Are you ready to dive straight into fun?
Put on your running shoes and tie the shoelaces tight. We're going for a run! You'll find yourself in the middle of the stars and on a different planet. There are many maps and many challenges to overcome. First things first! Choose a game mode. You can either play against other people or your friend. If you play against other players, you'll start the match with 30 people. The obstacles may be different, but the objective is the same in each level. Reach the finish line to be one of the qualified. The qualified people will be able to move on to the other levels. Dodge the balls, find the right doors, finish the racetrack and emerge victorious. After each race, you'll earn gems you can use to buy new skins. If you play against your friend, the objective is still the same. Do you think you will be able to win this race?
Can't get enough of running? Then you should check out Fun Escape 3D by clicking here. Enjoy!
Developer
RHM Interactive developed Fall Friends Challenge.
Release Date
March 11, 2021
Features
Many maps to race across
Fun and challenging gameplay
New skins to unlock
2 player game option
Controls
As player one, you can use WASD keys to move and G to jump. As player two, you can use the arrow keys to move and L to jump.