Play Now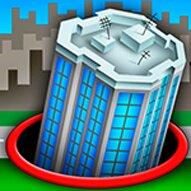 In Hole.io, it is your turn to swallow up the whole city! You will enlarge as you eat! Control your black hole and eat everything on your way! Are you ready to destroy the whole city and beat your opponents? Have fun!
Holes are everywhere in the city now, they really keen on swallowing the whole city, but don't worry! You are not the target; you will control one of them! Your objective in this game is to become the biggest hole before the time runs out. You can jump into the game right away after you enter your name. You will use your mouse to control your hole. When the game starts, you cannot eat all the items in the city. As you grow, you will be able to swallow bigger things like the buildings. To enlarge your hole, you should swallow various things like cars, lights, post boxes, and even humans walking around the city! As it is a multiplayer game, you should also watch out for your opponents, they can also eat you to destroy you! Try to avoid them or you eat them! Don't forget to follow your remaining time at the right top of the screen. You can also play in different cities; the game will decide it for you! Are you ready to swallow the whole city and be the biggest hole in the town? Have fun and good luck!
If you liked Hole.io, to check our collection of free and online multiplayer games, click here!
Developer
DRA developed Hole.io.
Release Date
November 20, 2019
Features
3D graphics
Multiplayer game
Entertaining gameplay
Easy controls
Controls
You can use your mouse to play this game.