Play Now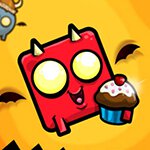 In Jagged, get ready to challenge yourself and try to eat all the candy! Do you like sweets as much as we do? Then this is just the right game for you! Your goal is simple! Just how many cakes can you eat in one go?
Sweets are the best thing ever! They make you happy. They just make everything seem much better, don't they? Well, our character thinks exactly like you. He likes sweets so much that he's ready to do anything to reach them. In this game, your objective is to eat as many cakes as you can without getting killed! You see, there are spikes at every corner and if you touch them, you lose the game. So, you have to tap the screen and jump using the left mouse button. But be careful and don't touch anything! We only want sweets! You start the game by choosing a character. Try to eat as many cakes as possible to outscore yourself and level up. When you level up your appearance changes and you start to look cooler! If you cant reach the cake because of the spikes just hit the corner of the map and the spikes will change places. If you are ready to eat all the sweets, let's begin!
It's obvious that you like action games so we're going to make a suggestion! Play Dune Surfer by clicking here and enjoy yourself!
Release Date
March, 2018.
Features
Different characters to choose between
Many customization options
Fun gameplay
Intuitive controls
Controls
You can use your mouse to play this game.