Play Now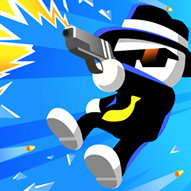 In Johnny Revenge, help Johnny get back his revenge from the bad guys terrorizing in the most dangerous streets of the city! The bad guys are more determined to make this town evil than ever. So, it's up to you to pull out your gun and clear the streets with your insane jumps and accurate hits. Let Johnny run wild in the streets and automatically backflip when he sees an enemy. Make your shot and take them all!
The streets are ruled by the mafia, and this city really needs your super-agent powers. But your missions are no easy! You have to kill all the bad guys form street to street and save the poor hostages. Fortunately, you are trained to complete these such tasks, and with your powerful weapon, there is nothing you cannot do. In this fun action game, your objective is to shoot all the bad guys and leave no man behind to shoot you first. You have only 5 bullets to use before you can charge your gun from the checkpoint. So, you have to use them wisely and miss no target. The red line is your guide, and once it crosses with the target, make your shot. You earn coins per each kill and you can use your earnings to unlock better weapons. Good luck and stay safe!
If you want to try another action game as exciting as this one, then be sure to check Stickman Shooter 2 by clicking here.
Developer
kiz10 developed Johnny Revenge.
Release Date
April 30, 2020
Features
2D colorful graphics
7 gun options to unlock
Multiple missions to complete
Entertaining and addictive gameplay
Controls
You can play this game with your mouse.