Play Now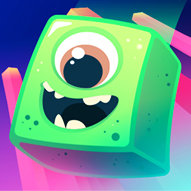 In Jump Jelly Jump, get ready to travel to the depths of the Earth and discover hidden and untouched places. You are about to go on a journey that will take you through the places you've never seen before and make you face both wonders and dangers. Are you up for the challenge?
It's time for a brand new adventure! But this time we have an unlikely hero: a slimy jelly. Sounds exciting, doesn't it? Your objective is pretty simple. Don't die. Okay, we'll elaborate on this one but only for you. You need to jump from platform to platform and continue on your journey for as long as you can to get a high score. To move your character, you can press the left mouse button and drag the cursor. The fast-paced game mechanics of this game requires you to react quickly. And the more you play, the more difficult the game gets. So, the number one rule is to always keep your eyes on the road. You'll also face some obstacles along the way. Try to avoid them for your own sake. Because if you don't, all the ground will be covered with jelly. But we have some good news, too. On the platforms, you'll see gems that are there for the taking. Collect them to unlock new characters. You can also complete the challenges to get more gems. If you're ready, it's time to embark on this journey. Yabba dabba doo!
If you want to play a game with similar game dynamics, you can play Beat Line by clicking here. Enjoy!
Release Date
October 28, 2019
Features
Many customization options.
Challenges to complete
Intuitive controls
Fast-paced gameplay
Controls
You can play the game with our mouse.