Play Now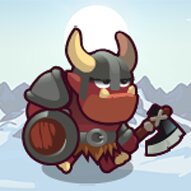 Kingdom Defense Online welcomes you with endless waves of enemy attacks from underground! Starting in a snowy forest, things will get dark real soon, and we will carry this war to the depths of hell. Meet new enemies at every level and see attack types you have never seen before! Adapt to the changing climate and stay strong against these beasts. Survive until the end to beat the boss!
You start with only a crossbow. Click and move your mouse to keep attacking the way you aim. Don't let the enemies near your castle as they will lower your health. You get gold for every defeated monster so you can upgrade your attack speed, total health, attack power, and unlock new magic attacks like fireballs and lightning. These special attacks have cooldown times, so having as many unlocked as possible is the best option. Some enemies have ranged attacks, but you can counter their attacks by shooting their arrows or magic bolts. You can focus on close-range enemies first while deactivating these ranged attacks and then get back at the others. At the end of these 16 levels, a powerful boss will be waiting for you. Good luck in this fantastic battle!
If you like strategical defense games, you can play Tower Defense and save your kingdom!
Developer
TapTapking.com developed Kingdom Defense Online.
Release Date
November 5, 2021
Features
Colorful 2D graphics
Unique enemy design
Easy to play
Improving strategical skills
Available on mobile devices
Controls
You can use your mouse to aim and shoot.