Play Now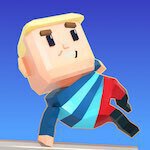 In KOGAMA Wipeout, another thrilling Kogama adventure with a new competition theme is waiting for you! In this fun, blocks-based game, you are a competitor in the Wipeout racing. You will be challenged due to various skills in a large field full of extreme obstacles. Will you be able to overcome the challenges lied ahead and beat all your opponents by being the first one to reach the flag?
Now it is time for you to step into the area and prove you are the best competitor! The objective of this fun skill game is to overcome the extreme obstacles and reach the flag on the finish line before any other player. Before starting the game, you can sign in and make sure all your process will be saved. In the field, you will see some items like weapons or rockets that can help you to win the competition. Collect the tokens on the way and buy those items before heading to the finish line. Try to avoid falling into the deep water to not to lose your life stat, situated at the left bottom of the screen. When you reach the flag, your stats will be filled again for the next competition. You can use your earnings gained during the game to buy new accessories and skins for your character. Good luck!
If you want to try another adventure of Kogama, then be sure to check Kogama Minecraft Sky Land.
Developer
KoGaMa developed this game.
Release DateAugust 2, 2018
Features
3D colorful graphics
Skins and items to buy
Various weapons and enhancements to buy
Sign in option to save the process
Controls
WASD or arrow keys to control the character. Left click to shoot. Q to take and V to drop a weapon. E to buy and K to suicide.