Play Now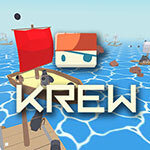 In Krew.io, get ready to conquer the seven seas! Team up with various sailors all around the world and dare the dark cold waters together! You can use different weapons against possible dangers, catch fishes to earn gold, open the discord to chat with others, and most importantly, stay alive by joining crews! If you think you can handle this sailing life, let the adventure begin!
Everything is possible in this immense sea life! In this fun IO game, you will be serving the role of a sail on your boat. Your objective is to complete all the quests which you can see on the quests menu by pressing "Q". Use your arrow keys or WASD to direct your boat and press on the "Z" key to dock on an island. You can check your map at the left bottom of the screen by pressing the "M" key and decide which way you want to go. When you find other sailors, you can join their team or invite them to join yours. To discuss grouping, you can open the chat by pressing "," the comma. To earn gold and progress your level you can fish with a left-click. Press "1, 2, or 3" to use your weapons or telescope. Good luck!
You should check our collection of free and online IO games by clicking here to catch more team spirit!
Developer
m0dE developed this game.
Release Date
December 2016
Features
3D colorful graphics
Joining teams
Fishing, shooting and observing
Various quests to complete
Controls
Use the arrows or WASD keys to move around. Left-click to fish. Press "1, 2, 3" and left-click to use weapons or telescope. The "Q" key to open the quests menu. The "Z" key to deck. "H" to open the help menu". SHIFT to open the leader board. "," to chat.