Play Now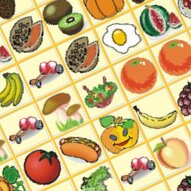 Kris Mahjong is an addictive mahjong-inspired object matching game. The goal is to get as many points as possible by matching the identical images before you run out of time. This exciting puzzle has a delicious food theme that includes everything edible. Get ready to get hungry and greedy at the same time!
This tasty puzzle is about both luck and focus. It's about luck because the table is randomly generated at every game, and when it comes to the matching food couples; you could get two or twenty of them. It's about focus because after the first obvious matches you will have to find couples across the table without any tiles between them, and it means a lot of space for you to check constantly. Don't worry if there are no moves left; the game automatically shuffles when it happens. The time limit can make it stressful, especially towards the end when you are desperately looking for an opening. Don't let that stress stop you from looking from other views; acting like there is no time limit without loitering is the best strategy you can go with. Objects will come in more mixed tables as you level up, but there is always another try!
If you like this delicious puzzle, you can check out Mahjong Digital for a change of theme!
Developer
Agame developed Kris Mahjong.
Release Date
April 24, 2017
Features
Cute food theme
Improving logic and focus skills
Easy to play
Available on mobile devices
Controls
You can use your mouse to match the tiles.