Play Now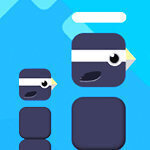 In Lay Eggs, it's time to think and act like a bird. In real life, birds need some time to lay eggs, but the ones you control in this game are quite prolific! Dive into the colorful world of this game, and lay eggs to keep your bird alive as it moves through various levels.
Eggs might look fragile, but they're your best tool for survival in this game. Your objective is to complete each level by reaching the finish line without dying. You can play the game with your mouse. To start, click on the screen on the main menu. Your character moves on its own, but you should make sure it overcomes all the obstacles on its way. You'll see platforms of different heights, and should avoid crashing into them. To do that, click on the screen to lay eggs to elevate your character either at the same or above the level of these platforms. Other obstacles include different enemies, gaps, and spikes. You should lay enough eggs to avoid touching those. At the top of the screen, you can see your level progression bar. Be sure to collect coins, as you can spend these to unlock 8 more characters from the in-game shop. Good luck!
Everyone likes eggs! We prefer them sunny side up! Go ahead and check our collection page of online food games to explore the kitchen and create wonders! Enjoy!
Developer
BPTop developed Lay Eggs.
Release Date
December 3, 2019
Features
Colorful 2D graphics
Intuitive controls
9 different characters that you can unlock and use
Entertaining and addictive gameplay
Controls
Click on the screen to lay eggs.