Play Now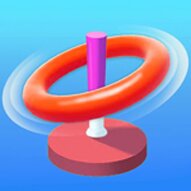 In Lucky Toss 3D, the popular game that is known all over the world returns with an online version. Featuring nice 3D graphics and addictive gameplay, this game is suitable to play for players off all ages. Are you ready to test if your skills are good enough to ace this game?
This skill game is here to lock you in front of the screen for hours of fun. If you trust your hand-eye coordination skills, get ready to face the obstacles that challenge you. Give it your best shot! Your objective is to toss the hoop and pass it through the obstacle standing in front of you. You can use your mouse to play this game. Aiming well is very important in this game. Try to understand where the items stand and adjust the power of your throw accordingly. As the game progresses the targets will even start swaying left and right. Watch their movements and throw the hoop at the right time. Win each level and you will get to unlock new hoops that will make you look even cooler! If you want, you can also check out the hamster level and challenge yourself and hamsters that constantly hide beneath the ground. Have fun playing!
If you are looking for more games to play like this one, you can check out our collection of online skill games by clicking here. Enjoy!
Developer
YAD.Com developed Lucky Toss 3D.
Release Date
June 21, 2021
Features
New skins to unlock
2 different game modes
2 boosters to use
Nice 3D graphics
Controls
You can use your mouse to play this game.