Play Now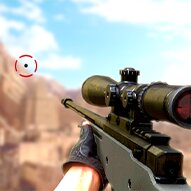 Get your sniper rifle and take position because it is time for justice with Sniper 3D! Follow the tricky hints to find the culprits and take them down for the sake of the innocent! Complete secret missions, destroy mob crews, and keep the streets safe with your sniping skills!
Welcome to your new job as a sniper! Here, you can log in daily to get paid, accept missions, and keep saving the lives of civilians! Use your aiming skills to the advantage of your city and make a living! You can get your first assignment and get the tutorial. Follow the instructions, find the suspect, and shoot them before innocent people get hurt. Wait for the right moment to get a clear shot. Be careful not to move too quickly, and make sure you got the right man before shooting anyone. Accepting missions consumes energy, but you can refill them by watching short ads. Completing missions gets you paid, and you can save your money to buy better weapons with increased damage rates. Check out the weapons and bundles at the main menu and find the best deal that works for you. Get better at your job and become the biggest nightmare of the criminals!
If you like this game, you can check out our other Shooting Games and keep working on your aiming skills!
Developer
2Play developed Sniper 3D.
Release Date
August 29, 2022
Features
3D graphics
Changing maps every mission
Fun puzzles
Challenging levels
Unlockable gear
Available on mobile devices
Controls
You can use your mouse to play this game.