Play Now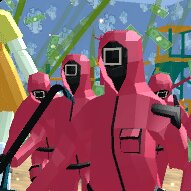 Eliminate your enemies to stay alive in Squid Shooter! It's you against them all in this adventure, and you need to protect yourself. It is dangerous down the arena. But if you act carefully and use your guns wisely, you can be the winner! Now, are you ready to blaze your guns at your enemies?
In this 3D game with fun graphics, you will find yourself in the Squid arena. Fighting your enemies has never been this scary. All the guards in weird pink costumes, poor people that got trapped there, and the huge scary doll are all attacking you at once. In the playground-like arena, you must position yourself in a way not to be entrapped between them. You have many different weapon options to use, so unlock the new ones to attack your enemies better. Don't forget to dodge the objects like the huge coffins the guards throw at you or the cash grenades not to lose power. You will be eliminated and fail the level when you are out of power. Are you ready to attack everyone to save your life?
If you enjoyed this 3D fighting game, you should check out our collection of shooting games with a variety of weapons to have more fun!
Developer
GoGoMan developed Squid Shooter.
Release Date
December 31, 2021
Features
• 3D colorful graphics
• Guns to unlock
• Many levels to complete
• Intuitive controls
Controls
You can use the mouse to look around, the WASD keys to move around, the space key to jump, left click to shoot. With the F and q key, you can knife attack. You can throw a grenade with the G key.