Masha and the Bear: Meadows
Play Now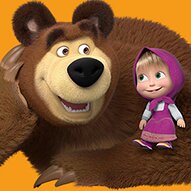 Masha and the Bear: Meadows is here to teach you about territory, expanding, and keeping it. Choose from cute characters with adorable themes and paint the arena in your colors! Leave colorful traces behind you and bite other players' tails to disqualify them, at least for a few seconds before they start again.
This world you are in is an open space for players from all over the internet to enter, invade, and eat each other's lands to grow theirs. But don't let it intimidate you; just look at the cute and pastel colors and lovely characters! Also, you can be anyone you want in this warm and accepting universe! Use your name, a nickname of your choosing, or a message you want to keep on the top of the scoreboard. Start with a small circle in this gigantic world and mark your place by running around in circles. Catch other players before they can complete their runs and leave them off the game. Remember; this does not add their territory to yours, but when a player is disqualified they are eliminated from the scoreboard and have to start anew. Think fast, grow slowly, and keep your place on the top safe from other invaders!
If you like this chaotic contest, you can check out io games by clicking here and keep competing with other players in different races!
Developer
DRA developed Masha and the Bear: Meadows.
Release Date
February 18, 2022
Features
Played by players worldwide
Easy controls
Simple and addictive gameplay
Unlockable character skins
Available on mobile devices
Controls
You can use your mouse to play this game.