Merge Master Dinosaur Fusion
Play Now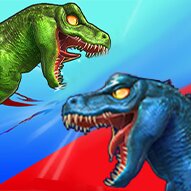 Merge your dinosaurs and watch them fight in every combination with Merge Master Dinosaur Fusion! Build your army of prehistoric predators, bring them together to get new species, and destroy the other dinosaur army! Get new soliders before each battle, merge them to try all the combinations, and face the enemy with new and unique tactics!
Take your place as a prehistorical commander and lead your army against other dinosaurs! Build strategies, try new tactics, and learn to win with this battle simulator! You can invest in the power of numbers and crowds or merge your soldiers to get stronger ones. Surrounding the enemies with high numbers almost always works, but if your soldiers are too weak, they can get one-shotted and die in seconds. Instead, you can compare the enemy soldiers and your dinosaurs and summon more help. The game grants you a free summon, but after that, you must watch a short ad to recruit more soldiers. You can speed up the matches by clicking on the button on the top right. Match them in numbers, merge the extra soldiers to increase your team's power, and feel the satisfaction while the enemy health bars disappear! Have fun!
If you like this fun battle simulator, you can check out Funny Battle Simulator and work with humans!
Developer
bestgames.com developed Merge Master Dinosaur Fusion.
Release Date
August 1, 2022
Features
Colorful 3D graphics
Unique dinosaur desings
Multiple levels with challenges
Fun gameplay
Available on mobile
Controls
You can use your mouse to play this game.