Play Now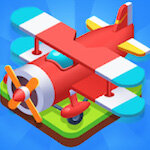 In Merge Planes, it's time to build an airline empire. While some investors prefer to stick on the ground, you've turned your gaze up in the sky. Take control of an airline and do your best to earn as much money as you can. Can you conquer the skies?
Belonging to the idle clicker genre, playing this game is simple and rewarding. Your objective is to earn as much money as you can by buying and upgrading aircraft. You can play the game with your mouse. Start the game by buying planes. Whenever a plane completes a tour on the runway, you'll earn money. With this money, you can buy more planes. When you have 2 of the same aircraft, you can drag one onto another and merge them to create an upgraded version. These provide more money. There are over 10 types of different planes that you can use. Each of these has different speed and income stats. You can see the level of each plane on its wings. On top of the game screen, there are three bars. By clicking on them, you can check your progress towards the next level, the summary of your current level and income, and the amount of your tokens and gems. You earn gems as you level up. Enjoy!
If you're looking for another fun and challenging game, then be sure yo play our title, Traffic Run Online. Have fun!
Release Date
March 2018
Features
Addictive gameplay
Can upgrade planes
Different planes to use
Nice graphics
Controls
Use your mouse to play the game.