Play Now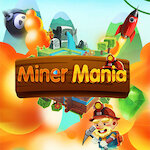 In Miner Mania, roll your sleeves up and get ready to dig! Ah, can you feel it? We're getting closer! All the gold you need is just a few minutes away! Just keep digging! Do you think you have the strength to continue and become the richest person alive?
Get ready, guys! Were going on a treasure hunt! Oh, just imagine the things you're going to buy with all the gold you'll find! So, what are you waiting for? Find the perfect place and start to dig. We are so near that I can practically smell all the gold! Alright then, let's go! Your objective in this fun game is to dig deep and find the buried treasure! You're a miner now and you need to hit the blocks to start digging. Once you start digging don't try to stop or you'll lose the game! Some of the blocks may be too hard to dig so try to find a different path! But don't worry! You won't be alone on this journey. You can use bombs and other tools to help you dig since your strength is limited! Keep digging using the left mouse button until you reach the bottom of the mine. There, the treasure awaits! In each level, the target depth increases so you'll need to increase your stamina. Try to think of treasure. We're sure that will help!
Wait a minute! There are other games in our collection to help you test your skills. Play Bouncing Balls now and destroy all the bubbles before they reach the bottom of the screen!
Developer
wyzg developed Miner Mania.
Release Date
December, 2018.
Features
Many levels to complete.
Treasures to find
Fun gameplay
Intuitive controls
Controls
Use the left mouse button to dig.