Play Now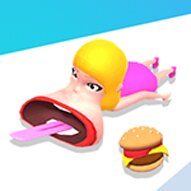 Mouth Shift 3D is one of the few places where "you are what you eat" does not apply. No one cares who you are here; you have to eat all you can. Shapeshifting is one thing; what you do to keep eating these sweets is another. You are too hungry to keep your mouth open and wait, so you just decide to transform. And this is how this adventure starts.
Shutting your mouth is never an option; not eating is one, but is it worth the tears? No. You are already sliding on your mouth, so one more desert would not be a problem. It's not like you're on a diet anyway. You don't have to control your feet as the hunger draws you towards anything edible, all there is left for you to do is prepare your mouth for whatever the track offers you. A tall tower of donuts? Widen it vertically. Two cupcakes placed on the two edges of the track? Horizontally. You will have to move through some doors, but there is no doubt you can deal with them the same way. Don't let anything stand between you and true love.
If you enjoy funny-themed skill games, you can check out Shaun the Sheep Chick N Spoon and help Shaun with bouncy eggs.
Developer
YAD.Com developed Mouth Shift 3D.
Release Date
February 14, 2022
Features
Colorful 3D graphics
Easy to play
Funny theme
Improving reflexes
Unlockable skin options
Available on mobile devices
Controls
You can use your mouse to play this game.