Play Now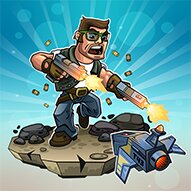 Mr. Superfire is here to fight the evil robots and android soldiers to save the day with your help! The enemy may have laser-shooting drones and guns that pierce through concrete, but you have improving skills, upgradable gear, and endless chances to try again! Take your side in this fight for humanity and write your name on the history with golden letters!
The controls are simple, although the timing has to be precise for you to pass the level unscathed. You can move left and right and jump while our hero does the shooting if something enters his range. You have limited health, so dodge every attack and shoot your enemies at every chance you get. Collect your loot and move on to the next level with the highest health possible. Switch floors and fool the missiles that seem to follow you while keeping your enemies at the right distance. Dying is only natural; you can upgrade your weapon and armor and come back stronger to face the enemy once more! Choose between power-up options to get perks like life-steal, extra health, and damage between levels. Fight in all five continents to send evil from the world for good!
If you like high-paced fights with an adrenaline rush, you can check out our Action Games by clicking here!
Developer
Inlogic Software developed Mr. Superfire.
Release Date
May 02, 2022
Features
Colorful 2D graphics
Easy to play
Five chapters with 49 levels
Upgradable features
Available on mobile devices
Controls
You can use your arrow keys to play this game.