Play Now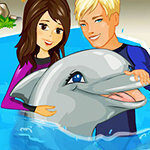 In My Dolphin Show 2, the show continues as the crowd takes its place on the seats. Everyone has heard about your performance, and more people want to see you on the action. Swim around in your tank, put up a great show, and keep your audience entertained.
You can hear the cheer of the people even under the water. It's time to come out, and show yourself. The objective of this game is to perform as many tricks as you can to earn lots of points before you run out of time. To start the game, click on the start button on the main menu. Next, either pick the standard show or the showtime option. The latter needs to be available before you play it, so wait until it is. In the show, you'll be asked to perform various tricks and stunts. Completing these correctly will reward you with score and audience happiness. You can track both of these from the top of the screen. Use the arrow keys to swim around the tank and jump out of the water. Each show takes 3 minutes to complete so do your best to collect as many points as you can. You can spend your points at the in-game shop to unlock different character skins. Have fun!
Want to play with cute and colorful characters? Then be sure to check our collection page of online girl games. Enjoy gaming at Yepi!
Developer
Azerion developed My Dolphin Show 2.
Release Date
December 6, 2019
Features
Colorful 2D graphics
Intuitive controls
Entertaining gameplay
21 different character options that you can unlock and use
2 different game modes that you can play
Controls
Use the arrow keys to control the dolphin and swim around.