Play Now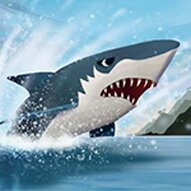 Your favorite show is back with its Shark version, My Shark Show! The game is here now to entertain both you and the audience! This new adventure, from the developers of the My Dolphin Show game series, is now available for you to enjoy. Train your shark to be the greatest it can be. Collect feedback from the audience and take your company to the next level. With your profits, you can even get new skins for your fish! Have fun!
Everything is getting wilder in this new adventure from the creators of My Dolphin Show! When you have a shark, you don't need a dolphin. However, there is a small reminder before we begin this game. All of the things that you will do in this game are only for sake of enjoyment! Animal cruelty is not something we support in real life for any reason! However, you can amuse yourself by playing this virtual game and training your shark! Make it jump through the burning hoops, feed it fish, and earn coins to improve your business. If you fall into the water, you will drown, much like the jet skiers in the training pool! Collect as many points as possible while entertaining the audience with fantastic shark moves. To make the game more enjoyable, you can gain unique skins for your shark. Enjoy it!
If you want to play another game similar to My Shark Show, then be sure to check My Dolphin Show 9, too.
Developer
Agame developed My Shark Show.
Release Date
September 2021
Features
2D colorful graphics
Unlocking skins from the in-game shop
18 challenging levels
Fun and engaging gameplay
Controls
Use the keyboard arrows or the touch controls to play.