Play Now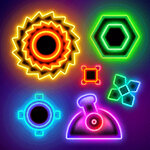 In Neon Blaster, get ready to rage war against shapes falling down from the sky! Dive into a world made of light, and take control of a powerful weapon to melt away the dangerous targets on the screen. Can you perfect your aim and survive?
In a world made of lights, things might get confusing. But you should keep your eyes on the screen, as you'll never know where the danger will come from. Your objective in this game is to destroy all the shapes by shooting them to survive as long as you can. You can play the game with your mouse. To start the game, click on the play button on the screen. On the screen, you'll see your cannon at the bottom. To shoot and move around, click and drag your mouse over the screen. The shapes will fall down from the top. The numbers on them are their health, and you should shoot them all before they touch and kill you. Each shape you destroy drops coins. Collect these to upgrade 3 different stats, so you can turn your weapon into a more effective one. You can see how many coins you have from the top right corner of the screen. Have fun!
For games similar to this title, be sure to check our collection of free action games. Enjoy!
Developer
GAMEE developed Neon Blaster.
Release Date
August 27, 2019
Features
Colorful 2D graphics
Intuitive controls
Entertaining and addictive gameplay
3 different stats to upgrade
Controls
You can use your mouse to play this game.