Play Now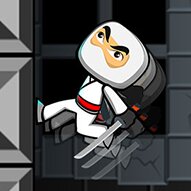 Jump between buildings for your secret missions with Ninja Gravity! Follow the ninja's path to the top, survive deadly traps, and prove your reflexes to everyone! Fill your pockets with the precious gold, improve your agility skills, and complete your quest in this dark and endless building! Let's start jumping!
Your mentor gave you one last mission through his final words. He asked you to set a goal for yourself and test your skills until you are satisfied. But that won't happen in any ordinary building; you must do this in the deadly maze that has been a grave for many ninjas. So, wear your climbing shoes, steady your breath, and think of the master's words of wisdom; you will need them! You have every piece of equipment a ninja can need, so let's warm up! Getting used to the game's pace can take some time and a few tries. Click or tap to jump between walls, and avoid touching the obstacles and traps to stay alive. Keep practicing to get better and fulfill your master's last wish. Collect gold coins and unlock new robes for yourself. Get better with time, break new personal records, and honor your mentor!
If you like this addictive game, you can check out our other Skill Games and find more games like this!
Developer
Smart Play Studios developed Ninja Gravity.
Release Date
August 5, 2022
Features
Addictive and infinite gameplay
Improving reflexes
Unlockable skins
Nice 2D graphics
Available on mobile
Controls
Click or tap to jump.