Play Now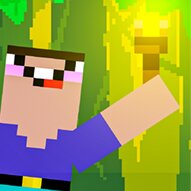 Flipping bottles is so 2016, but you can still help Noob flip torches with Noob Torch Flip 2D! Dive into his block world and join the famous challenge of his realm! Help him overcome extreme challenges and parkour tracks to complete levels! Face more difficult obstacles at every level and pass them with the power of determination and some skill!
The mines of the block world are deadly enough for people, but how long could you last as a blowing torch? The answer is in this game. Our funny Noob is after completing an internet challenge, and he is not planning to stop before doing so. The mission involves a torch jumping its way through the most dangerous mines of their world. So, prepare your torch, and let's jump into the depths! You must click on the torch to flip it and double-click to double-jump. Preparing for the obstacles and traps is the key to this game. Avoid falling into lava as it is not a torch's best friend. Touching walls also puts off the fire and ends the game for you. Watch out for the warning signs, and do not step on traps. Bring the torch to the finish line without accidents to complete the challenge!
If you like this fun challenge, you can check out our other Skill Games to find more games like this! Have fun!
Developer
Stickman vs Monster School Team developed Noob Torch Flip 2D.
Release Date
July 6, 2022
Features
Colorful 2D graphics
Noob as a teammate
Fun level designs
Increasing difficulty
Available on mobile devices
Controls
You can use your mouse to play this game.