Play Now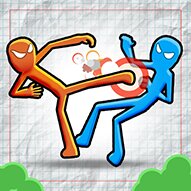 Sharpen your reflexes and improve your paper-fighting skills with Paper Fighter 3D! Invite a friend or challenge yourself against the game bot! Control a warrior drawn on paper with lines for muscles and circles for fists! Learn fun fighting mechanics and use this arena as your own to invite and defeat friends!
Welcome to the paper arena! You can choose who you're going against and start practicing right now! No paperwork, no requirements, no entrance fee; the fight starts with just one click! Also, everyone is equally strong in a world where everything is made of lines. It does not matter if you have any fighting experience or history; check the keys and take your position. Choose between two options in the main menu and enter a 1P or 2P fight. 1P option puts you against the game bot, while 2P allows two players to use the same keyboard and screen to challenge each other in a death match. In these matches, you can move forward and backward, jump or duck, and use kicks, fists, and special attacks. You can combine your positions with attacks to create move combos with unique effects. Explore new backgrounds, beat everyone, and show off your combat skills!
If you like this funny fighting game, you can check out Stickman Temple Duel and bring weapons into the fight!
Developer
RHM Interactive developed Paper Fighter 3D.
Release Date
August 15, 2022
Features
Funny paper theme
Singleplayer and multiplayer options
Simple controls
Colorful graphics
Controls
P1 can use "W, A, S, D" to move and "F, G, R" to attack, while P2 can use the arrow keys to move and "K, L, O" to attack.