Play Now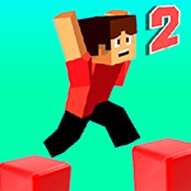 With this brand-new jumping adventure, Parkour Block 2 continues to fascinate its fans! For the sake of your life, you must continue to jump. Even if the floor is covered in lava, you must get to the gate. To save your life, jump from block to block. In this journey, you can be created of pixels, but that does not make you immortal. You're dead if you lose your balance even a little. Is everything in order? Let's get this adventure began, shall we? Good luck!
What is going on in this maze? You're trapped underground, waiting for someone to come to your rescue. But that isn't going to happen. You'll have to figure out how to get out on your own. There is just one way out, which is to jump across the platforms. You die if you fall. The floor is covered with lava and flames. Your goal is to go to the purple gate. You must never lose hope in order for this to happen! You should have the courage to start over even if you fall into the lava. The WASD keys or the keyboard arrows are used to control your character. Change the angle using your mouse. To jump your character, press the SPACE BAR. As you progress through the game, the difficulty level will also rise. Keep an eye on your steps! Now, good luck and have a good time playing!
Do you want to play more games like this one? If so, take the different challenges in our collection of free and online puzzle games.
Developer
Poly Games developed Parkour Block 2.
Release Date
August 26, 2021
Features
2D colorful graphics
Pixelated characters and a theme
Several challenging levels
Fun and addictive gameplay
Controls
SPACE BAR to jump. Arrow keys or the WASD keys to move. SHIFT to run.