Play Now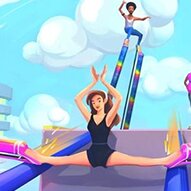 Wonderful High Heels 3D allows you to do all these dangerous moves you see people do on the internet every day. You will be walking on the rooftops of the highest buildings of a city, crossing the tiniest bridges with platform heels. But with one small difference: these platforms keep growing!
Walking with heels is a challenge, but these should not be considered heels at all! You will be walking on evergrowing thick sticks, sacrificing a part of them to walk over obstacles, doing complete splits to slide from building to building, and clapping yourself for the show you are putting on! Pick up more shoes on your way and add them on your heels to grow taller. Keep your balance while walking over narrow bridges and sliding between platforms. Collect diamonds and use them in the shop later to unlock skins for your character. Walk over the shortest sides of the obstacles to lose as little as possible. Use every chance to get taller, so you can reach the final stage at the end of every level and join the costume party in the skies! Get keys and unlock surprise treasure chests with more diamonds and, who knows, maybe more skins!
If you like funny games that improve your skills, you can check out Blob Giant 3D and help a jelly man get bigger!
Developer
wey.game developed Wonderful High Heels 3D.
Release Date
February 25, 2022
Features
Colorful 3D graphics
Funny and addictive gameplay
45 unlockable skin options
Controls
You can use your mouse to play.