Play Now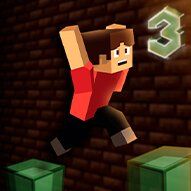 Dive into the world of pixels in Parkour Block 3! This game takes you to a whole another dimension and you won't want to leave it. Just jump around as much as you can and see how high you can get! Are you ready to have thrilling fun with this 3d game?
In this game, you will see the combination of 3D graphics with the vintage looks of pixel art. This is a first-person game, so the only thing you see of your character is the stick in your hand. You can set your view and perspective with your cursor to jump between the platforms. When you think you aimed in the right direction, you can jump with the space key. Just try not to fall. If you accidentally fall on the lava, you will fail the level and will have to re-start from the first platform you're standing on. Now, stretch your finger and find your balance not to fall on the lava. Let's see how high you can climb in these stacks of platforms!
If you enjoyed jumping your way through these platforms in this 3D game, you should also check out Parkour Block 3D for a similar and fun gameplay experience.
Developer
Poly Games developed Parkour Block 3.
Release Date
November 18, 2021
Features
• Vintage-looking colorful graphics
• Multiple levels
• Challenging and intuitive controls
• First-person view
Controls
You can use your cursor to fix the view and the space key to jump.