Play Now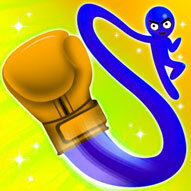 Rocket Punch invites you to prove your punching skills right here, right now! You are not going to be tested with the strength of your fist but your eye and hand coordination skills! 'Cause targeting the enemies is harder than ever in this fun 3D game. They are not attacking you but waiting for your fist silently to destroy their lives. If you are ready for this rocket rush, let the game begin now!
Get ready for a party-like fisting adventure! You have only one goal to achieve and that is taking all your enemies down! Featuring 3D graphics and items to be unlocked from the in-game shop, you won't be able to leave the screen till you end the game. This is no challenge for you to test your strength but to target skills. What you are going to do is drag your mouse and lead your punch towards your enemies. You will see a virtual console at the bottom of the game screen. Drag your mouse or your finger and let your fist find its way to the foes. You have 3 punches to use per level. The fewer you use, the more cash you can get. Use your earnings to unlock new roles and fists from the in-game shop. Don't forget to track your level progress from the top of the game screen. Good luck and have fun playing!
If you are up for more thrilling adventures with 3D graphics, be sure to check our collection of free and online 3D games to enjoy fun titles like this game.
Developer
YAD.Com developed Rocket Punch.
Release Date
March 30, 2021
Features
3D colorful graphics
Several levels to complete
Various roles and fists to unlock
Fun and engaging gameplay
Controls
You can use your mouse or finger to play this game.