Parkour Block Xmas Special
Play Now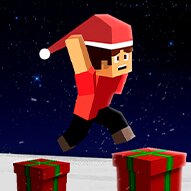 Jump around the forest in Parkour Block Xmas Special! In this edgy world, you have an important task. You should move from the point you stand and reach the final point. It is never easy to jump around and find your way in this special forest, so are you ready for this challenge?
Here, you will find yourself in the 3D world of pixels. You will see a grand forest ahead of you. What you need is o jump over the tress and reach the final point. For this, you need to jump on top of the trees throughout the forest. This is a first-person game, so you will be looking from the first-person point of view of your character. This is an added challenge, so keep in mind to aim the tree branch you're jumping to well. If you fall off a tree, you will need to start from the very beginning! Use the space key to jump and your cursor to set your view. You can move with the arrow keys. Now, get ready to find your inner balance and move on through this unique forest!
If you enjoyed jumping through this interesting forest with special graphics, you should check out playing Parkour Block 2 by clicking here.
Developer
Poly Games developed Parkour Block Xmas Special.
Release Date
December 07, 2021
Features
• Vintage-looking colorful graphics
• Multiple levels
• Challenging and intuitive controls
• First-person view
Controls
You can use your cursor to fix the view and the space key to jump.