Play Now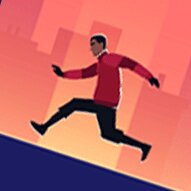 In Parkour Climb, get ready to become the Spiderman of this town. Featuring nice 2D graphics and an endless level, this game will lock you in front of the screen for hours of fun. Are you ready for the long climb in this fun action game?
Our friendly neighborhood Spiderman may not be here, but you are! You may not have the ability to shoot the web, but nothing is keeping you from crawling on walls. Gravity? No, no, don't worry about that. Gravity won't hold you back from climbing these walls, but other obstacles might. We'll talk about that later. First things first! Your objective is to climb as far as you can and earn a high score. To play, all you need to do is your mouse. Your character will start to climb automatically when the game begins. All you need to do is jump between walls. When you are climbing, you will encounter people on their balconies, pets, and countless other obstacles that will stop you from venturing any further. Since we don't want that, you need to click on the left mouse button at the right time to avoid colliding with them. Pick up boosters like rockets and shields to get a little bit of help. You haven't reached your final form like Spiderman yet, so help is necessary. As the game progresses, you will need to pick up the pace and react quicker. Have fun playing!
If you want to play more games like this one, you can check out our collection of online skill games. Enjoy!
Developer
MarketJS developed Parkour Climb.
Release Date
May 26, 2021
Features
An endless level
Fun and addictive gameplay
Intuitive controls
Colorful 2D graphics
Controls
You can use your mouse to play this game.