Play Now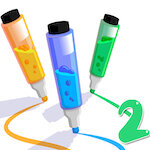 In Pen Run 2, get ready to travel on a very cluttered table as a colored marker. Leave your mark on the table as you try to evade various obstacles laying around. Can you complete each level without running out of ink and falling over?
Your objective in this game is to complete each level by reaching the finish. This might sound easy at first, but there are many challenges and obstacles you should be aware of. You can play the game with your mouse. When you start the game, you'll see a path on the table. Your pen moves forward on its own, but you should change its direction. Move your cursor left and right while you're clicking and holding down the left mouse button. At the top of the screen, you'll see your progress. To fill up the bar, try to move on the trail as much as you can. The various objects on the table are not the only challenge you'll face. As you move, your ink runs out. Collect bottles to fill your ink meter so you can keep moving. Crashing into an obstacle or running out of ink ends the game. Good luck!
Do you trust yourself? Then why don't you test yourself with the various titles in our collection page of free skill games? Enjoy!
Features
30 levels to complete
Colorful 3D graphics
Different obstacles to avoid
Intuitive controls
Addictive and entertaining gameplay
Controls
Press and hold your left mouse button to move around.