Play Now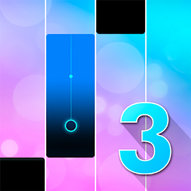 In Piano Tiles 3, the audience is waiting for your stage show! There are so many hit songs to play including Little Star, Jingle Bells, Canon, Fur Elise! It's time to show off your talent! With this game, everybody can play the piano. Be ready to challenge your hand speed limit. Are you talented enough to play these classic hits, will you be failed?
Your dreams come true, now you could be a famous pianist! In this fun and musical skills game, your goal is to go as further as possible in the song. Thanks to the music library of Piano Tiles 3, you can play the most famous songs! To play the game, you should press or tap the black tiles before they go down and try to avoid the white tiles. If you cannot press the black tiles on time, the game restarts with other songs. It will get harder as you progress through the song. Never give up playing! As you progress, you will get better at playing and you will see more beautiful songs. Enjoy your favorite classic hits with Piano Tiles 3 and try to do the best score! Catch the rhythm and lose yourself in the music! Have fun playing!
Do you trust your skills? If so, take the different challenges in our collection of free and online skill games. Enjoy the music!
Developer
DAB3Games developed Piano Tiles 3
Release Date
August 24, 2020
Features
Colorful 2D graphics
Awesome sound effects
Simple to play
No levels to pass
Controls
You can use your mouse to play.