Play Now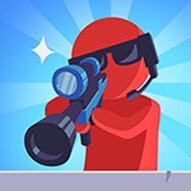 Save people from scary zombies in Pocket Zombie Sniper! The city is under invasion and people need the best sniper around to escape these zombies. Can you save people who need you the most and protect them against these brain-eating monsters?
From little green zombies to even scarier huge red zombies… The city is invaded by zombies that are nothing but creatures hungry for human flesh. Poor citizens can do nothing but try to run away. But it is impossible to try to run away forever. So, these people need someone to shoot these fatal zombies from the rooftops. Thank god, the brainless zombies just waddle and walk very slowly. So, you have a chance to shoot them while they're following the poor people. You should be careful not to shoot the people, though. But try not to use alternative methods to eliminate the zombies like using TNT or breaking the glass bridges when the humans are near not to hurt them. Also, keep in mind the variety of weapons you can unlock with the money you collect. Now, get to the rooftop and save people from being eaten by these evil zombies!
If you want to play more shooting games like Pocket Zombie Sniper, you should check out our collection of free and online shooting games.
Developer
YAD.com developed Pocket Zombie Sniper.
Release Date
October 22, 2021
Features
3D graphics
Guns to unlock
Many levels to pass
First-person shooter game
Controls
You can use the left-click to shoot and the cursor to aim.