Play Now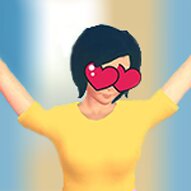 In Pokey Woman, you better stretch your legs, you have a long journey ahead! You have to be pretty elastic to complete the journey to the skies in this skills game. Featuring nice 3D graphics and fun gameplay, this game features many different levels you need to complete. Do you think you will be able finish them all?
The sky is the only limit! Stretch your legs and get ready to fly. Someone built a lot of obstacles to separate you from your significant other. Since he is trapped at the top of this tower of obstacles, you need to take action and do whatever it takes to reach him. Fortunately, they don't know your special talent. Considering how elastic you are, you are like a real-life counterpart of Elastigirl. With your talent, it shouldn't be too long before you reach the love of your life. To play this game, you can use your mouse. Click on the screen and hold it to stretch your character's legs and release it to jump upwards. When you click on the screen again your character will stop. Clicking at the right time is very important since sometimes there can be gaps between platforms. Also, you need to be careful and try not to step on the black platforms since they can hurt her and make her fall. If she falls, the game is over. On the contrary, the yellow platforms will make her fly all the way to the top. Do you think you will be able to make them meet again?
Love knows no bounds! PlayLove Pin Online and help other lovers. Enjoy!
Developer
Bermuda Games developed Pokey Woman.
Release Date
June 23, 2021
Features
Many levels to complete
Colorful 3D graphics
Intuitive controls
Fun and addictive gameplay
Controls
You can use your mouse to play this game.