Police Car Simulator 2020
Play Now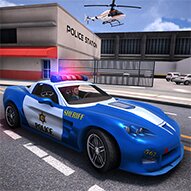 Choose from two unique map options and bring the order to your town with luxurious cars with Police Car Simulator 2020! Enjoy the stunning scenery in the open air, roam freely with any car you want, and explore vast deserts, an endless open road area, and a living and breathing city!
You can choose between two map options, and jump into nine luxurious vehicle choices right after that. Check all and choose one fit for your style. Now you can enjoy exploring your realistic driving experience and defying the laws of physics with your invincible police car. You can turn on and off the police siren, use the nitro boost to accelerate, and change your car with just one touch. Speed all you like and crash into other cars to watch them fly over you or explore the woods and the infinite desert testing your limits. You can try to wreck your car by hitting objects, buildings, and other vehicles. Keep an eye on the fuel and health bars to the right. The fuel refills after the bar hits the bottom. It is almost impossible to drop your health to zero, but you can never know without giving it a try!
If you like police car simulations, you can check out Police Car Cop Real Simulator to buy guns, complete quests, and punish criminals!
Developer
Driving games developed Police Car Simulator 2020.
Release Date
May 2, 2020
Features
Amazing 3D graphics
Detailed car controls
9 car options
2 game maps
Controls
Use the arrow keys to move, spacebar for brakes, number keys to change cars, "H" for siren, "F" to boost, "C" to change the camera, and TAB for the main menu.