Play Now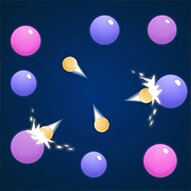 Pop the colorful balls with just one touch with Pop Ball! Start a chain bullet rain with one click and watch everything go down with the most satisfying animations! Choose the best spot to start the chaos, wait for the right second, and boom! Watch the balls disappear as the wave of bullets keeps growing!
Imagine a target that doubles your bullets and sends them to your next targets! Now imagine that target multiplying the number of your bullets by four! That's right; this room is on your side! There is no countdown, no lives, no limitations; just sheer action, so you can shoot wherever you want and retry it anytime. The controls are also simple: tap or left-click on the screen to start the reaction. The results can rely solely on luck, and you have one shot. The good part is that you can always retry by clicking on the repeat button and watching a shot ad or going back to the menu and choosing the level. Starting from the middle areas is mostly the best idea against the luck factor. Clean the area off all balls to complete a level and pass on to the next. Have fun!
If you like this relaxing game, you can check out Pop Balloon and solve puzzles to pop colorful balloons with your blade!
Developer
YAD.Com released Pop Ball.
Release Date
August 4, 2022
Features
Relaxing visual effects
Addictive and satisfying gameplay
Colorful graphics
Easy to play
Available on mobile devices
Controls
You can use your mouse to play this game.