Play Now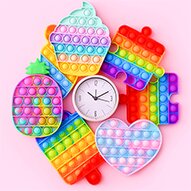 Leave the chaos and stress of the day behind and empty your mind with the help of Pop It Fidget Toy. These toys were originally made to keep people's hands occupied while their minds are busy with something and make focusing easier, but they were so relaxing that now they have become a separate occupation. Pop it toys are differently shaped tablets (can be shaped like animals, objects, etc.) with bubbles on them. All you do is pop. Though it might sound so simple and dull, you would not believe the sense of relaxation it gives. This game contains all the comfort they bring, but with a few more options and extensions.
There are endless shape and style options: animals, superhero masks, emojis. You can choose whatever model you want from the catalog and recolor it with one of many multicolored patterns. It is also possible to recolor the buttons and customize them all to your liking. After choosing the ideal toy for you, you can decide between 3 modes: simple, fast swipe, and time challenge. In the first mode, you can pop one bubble at once. Fast swipe allows you to click on a bubble and drag through the toy to pop everything in your way at once. The time challenge gives you a time limit and you try to complete as many pops as possible. You gain gold for all these activities, so make sure to drop by the shop and unlock even more toys!
If you like this relaxing game, you might also enjoy Fit Balls for a more puzzling experience.
Developer
RN Gaming Studio developed Pop It Fidget Toy.
Release Date
January 24, 2022
Features
Realistic and satisfying popping experience
3 different modes
Customization options
Available on mobile devices
Controls
Use your mouse to pop.