Play Now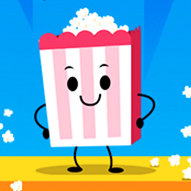 In Popcorn Box, it's time to pop popcorn! It's popping in the pot. You should eat it while it's hot. Fill the popcorn boxes up to the top. I just don't want to stop! If you love popcorn as much as we do, you have come to the perfect place. Are you ready to control a popcorn machine? Yay! Let's get going then!
Oh, if only someone loved us the way we love popcorn. It's one of the healthiest snacks and it's also delicious. In this game, your objective is to complete each level and fill the boxes with popcorn until it reaches the white lines. To do this, click on the screen and hold it until it reaches the lines. You can earn three stars in each level. But you should be careful! Each time a popcorn falls off from the platform, you'll lose a star. If you lose all the stars, it means you failed the level. And never forget. You should never let your food go to waste. When you pass the line, you have to wait 3 seconds to move on to the level. You can unlock different skins with the coins you earned. So what are you waiting for? It's time to fill our tummies with delicious popcorns. Mmm, sounds yummy!
If you want to play similar games to this one, check out our collection of online skill games to browse more titles. Have fun!
Developer
Developed by BPTop.
Release Date
July 6, 2020
Features
Many levels to complete
Many customization options
Fun gameplay
Nice graphics
Controls
Use your mouse to play.